Consuming organic products is extremely important to protect our health and the environment. As Chuck Kayser from Midori Farm said during our discussion "if you buy organic, you're suddenly not only voting for an organic farmer, but you're also not supporting the conventional farming industry and all the things that conventional farmers invest in such as pesticides."
Although organic products are not yet as popular in Japan as in some other countries, there are several different channels where you can buy some organic fruits and vegetables.
Don't hesitate to leave your recommendations of organic farmers, organic stores etc. for Japan in the comments!
Conventional supermarkets
Conventional supermarkets are offering more and more organic products. You may find a small section of organic vegetables in your local supermarket (usually bigger ones). Look for the certified organic label JAS logo on the packaging or on the aisle or for オーガニック ooganikku or 有機 yuuki.
Unfortunately these tend to be packed in plastic packaging to segregate them from the rest of the fruits and vegetables.
Organic grocery stores
There are not that many stores dedicated to organic and natural products in Japan, but in bigger cities, you might come across some. In Tokyo for example, the most famous are Bio C Bon, Natural House and Crayon House. Here is a selection with quite a few other ones for Tokyo area.
In order to find ones in your area, simply search オーガニック or オーガニックスーパー in GoogleMaps.
A lot of organic stores still tend to sell their fruits and vegetables wrapped in plastic, but you may sometimes find unwrapped organic fruits and vegetables in smaller ones. For example, Ecoloupe's store in Tokyo has very little products wrapped in plastic (only salad and berries) and you can buy fruits and veggies by weight.
Farmers' markets
Another great place to find organic products are farmers' markets. Not all small farmers in Japan do not use pesticides. Besides, some who don't, won't necessarily have a JAS label to help you identify them as you have to pay to get this label. So you will have to talk to the farmers to know a bit more about the products. This is actually a nice way to connect with them as they are usually very keen to share about what they do.
In order to find a farmers' market in your area, you can check Asaichi's website (in Japanese only but fairly straightforward to navigate, some of the links don't work anymore though) or if you live in Tokyo and Yokohama area, here is a great guide in English. You can also simply do a search on GoogleMaps or Google with ファーマーズマーケット faamaazumaaketto or 朝市 asaichi. You may not find a lot of options but it could be a great place to start.
Another way is to ask older residents or to pop by your city hall and ask them. I also once came across one randomly when walking in my neighbourhood. It was actually only one farmer that was setting up his products on a parking lot every Friday and Saturday mornings. For sure this one would not have been registered anywhere! So keep your eyes open.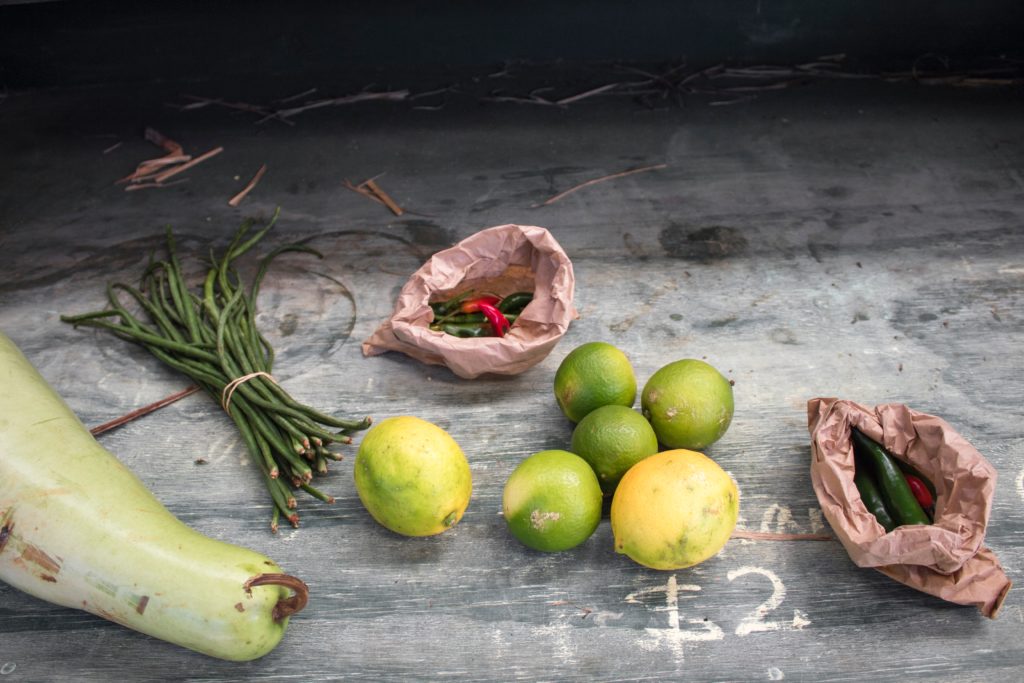 Online stores
There are a few online stores where you can buy organic produce in Japan such as:
Most of these websites are usually only in Japanese but you can get by with Google Translate.
When proceeding to the check out, leave them a comment to ask them not to use any plastic packaging. Bear in mind that you might still get some as some of their suppliers may have already wrapped the fruits and vegetables in plastic.
Dedicated to Tokyo area, you will also find Crayon House which is doing a vegetable box delivery service and Ecoloupe. Ecoloupe is a bilingual organic online store, which has recently launched and is providing organic products that have been tested by their partner laboratories to make sure they don't contain any pesticides, synthetic fertilisers or radioactivity. On top of that they also try to keep packaging to a minimum and if you order several times, you can give back your box and packaging (eggs and berries boxes) during your next order and they will reuse them.
Direct from organic farmers
This system is the cheapest and most sustainable from my point of view as you are ordering directly from organic farmers in your area. You will usually pay a fixed fee for a vegetables box where the farmer will send you a selection of seasonal products. This system was traditionally called Teikei in Japan.
You can usually contact them by email or through their website. A lot of them don't speak English but with the help of Google Translate you should be able to get in touch with them.
There are actually a couple of foreigners or multi-cultural families who have started their organic farm so you may even be able to order from them in English. Some of them will delivery you boxes of what is in the season while others will allow you to choose what produce you want to buy.
Here are a couple ones:
I live in Tokyo and also order from Organic Farm Suzuki now and then (this farmer speaks a bit English).
A lot of these small organic farmers will already be watching their plastic waste. However, I still recommend you to add a note when ordering from them to ask for no plastic and minimal packaging. I usually also mention the fact that I don't mind normal/ugly looking vegetables to limit food loss at the farm level. I have only had great experiences with the farmers I ordered from and so far I have never gotten plastic packaging from them.
I hope you found these tips useful and will start looking into buying organic fruits and vegetables if you are not doing so already!